De referentiedocumentatie van Exact Online geeft de volgende 7 tabellen in de categorie 'Sales':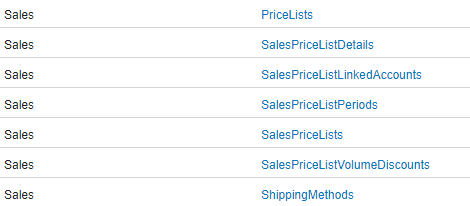 Bij PriceLists en SalesePriceListDetails geeft Exact daarbij aan:
This endpoint is redundant and is going to be removed. Please refer to the new endpoints SalesPriceLists , SalesPriceListLinkedAccounts , SalesPriceListPeriods and SalesPriceListVolumeDiscounts.

Klopt het dat deze 4 nieuwe tabellen nog niet zijn opgenomen in het sales schema van het Exact data model van Invantive?