Besides reporting on data contained in Exact Online or in the other support platforms, the All Cloud Edition of Invantive Control can also upload data into respective platforms. For Exact Online, you can easily upload hundreds or thousands journal entry lines in one or multiple companies in one go directly from within Excel.
Instructions
A working sample is available to help you create your own model to upload journal entry lines.
First download the file Exact Online - Upload Journal Entry Lines.xlsx.
Start Invantive Control and log on to an Exact Online country.
Change the values as desired in the baby blue cells. The sample already contains some sensible data.
Either remove the division value or pick one from the partition chooser (pie chart) in the Invantive Control ribbon.
Change the value of the cell I4 to TRUE (Dutch: WAAR) to upload the lines into the Exact Online company.
Some tips are listed in the cells I19 and below.
Spreadsheet Input
The following picture gives you an impression of the input: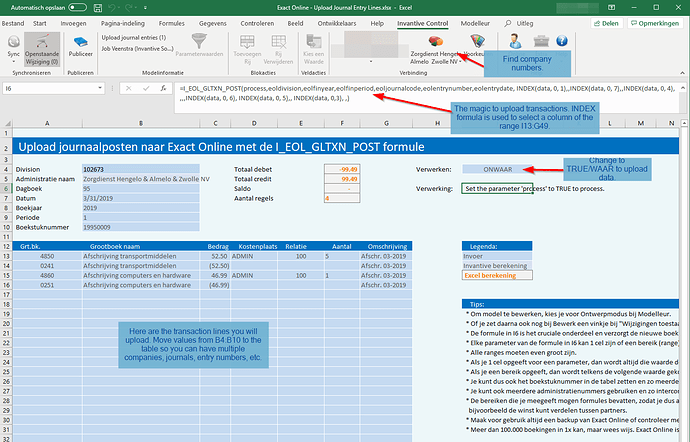 Result
The picture below gives you an impression of the result: