Effectively handling and accelerating projects together
spacial planning process
The route of idea to ordination, permit and realization is seen by many as complex and time-consuming. In the stagnating market of today that is an undesirable image. Through the introduction of new rules and legislation a first step has been made in accelerating and integrating procedures and permits.
This will lead to a positive result, but new legislation alone is not sufficiently effective to reach the desired speed. After all, progress in the spacial planning process is not just dependent on that!
This observation calls for action, especially in the current context where time, speed and quality are very decisive for success. The (end) user and the financer are not prepared to wait for long, after all. In practice good results are reached by carefully, jointly and integrally setting up processes, much like lean processes in the construction world. This means concretely that in all plan phases a number of themes are consequently and integrally at issue. This approach is depicted in the figure below.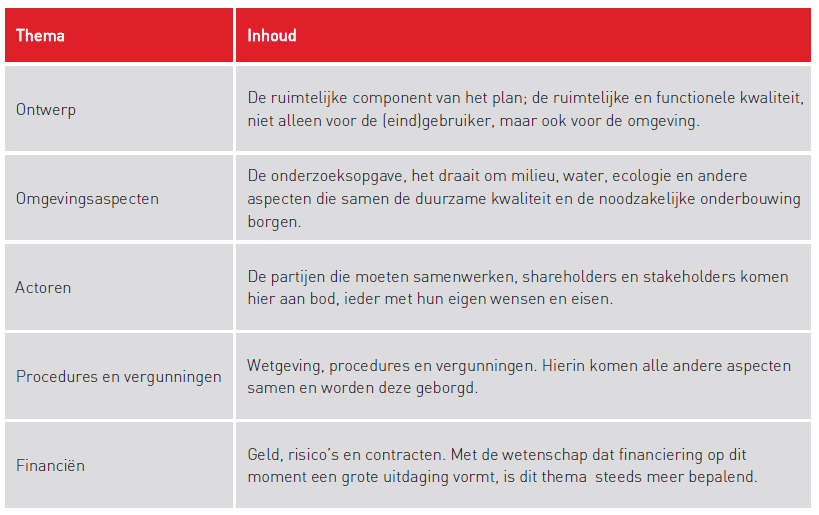 What is it all about?
In this article quality and result are central. The planning process is made lean using those aspects; from initiative to realization, exploitation and maintenance. In the total planning process five themes are used. The content of these themes are broadly indicated in the table below. Specific characteristics of projects do influence that content, but these five themes are nearly always key to controlling the risks and handling projects energetically.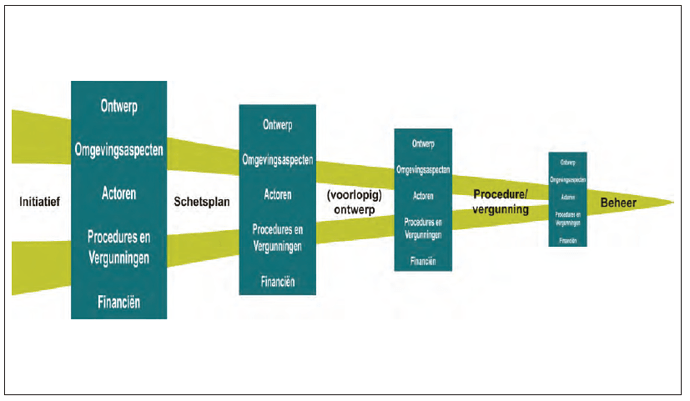 The challenge is to pay proper attention to all these aspects in the different plan phases. This allows all aspects to be handled in time and in interdependence with the needed and optimal profundity. This approach demands extra attention and investment in the pretrajectory, with as concrete result a more effective and efficient process afterwards. The goal is not to research every aspect in every phase. Through expert judgement and quickscans it is determined whether and to what degree an aspect is decisive for content and planning. This is emphatically a joint effort and responsibility of the promoters and advisors.
As an example there is an elaboration on the theme environment aspects. That is done for a good reason. Experience shows that it is precisely the lean approach of the research task that saves a lot of time.
Environment aspects
The central task is to execute the proper research at the right moment with the right results. And at the lowest possible cost and within the time agreed. This is called "research management". That is a very different approach than (ad-hoc) determination per phase to see which researches are needed and to execute them then (or let them be)! It does not mean that you research everything in advance. The core is that you determine per phase whether and what type of research is needed and you anticipate on the phases that are yet to come. In the first plan phases there will be explorative or designing research, for example to determine the flexibility of a plan. As plans become more solid the research will be of a more underpinning or problem solving nature.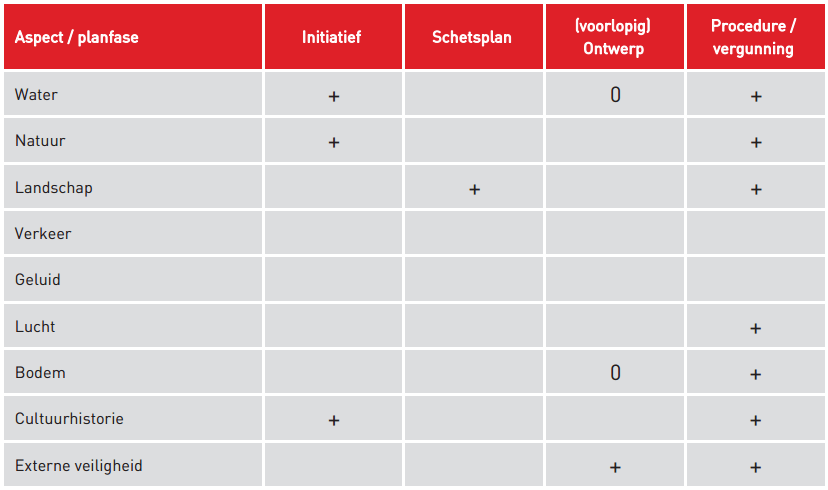 In the table it is displayed for a random project which aspects / researches play a vital role (+) on which moment as well as when they would possibly need to be executed (0). This is how in this example it is visualized that research for water, nature and culture history is necessary at a very early stage. This research will therefore yield preconditions for the design. You might think of research that determines where the water can best be realized and what water quality is feasible.
An empty box implies that research in the concerning phase is not (yet) on the agenda. It can also be useful not to execute reseach too early, for example because it needs to adjusted specifically to the definitive plan. This is the case in this example for matters such as traffic and sound. In any event, all aspects need to be treated in the procedure and permit phase, with or without specific research. In that phase it is usually the case that all earlier executed researches are relevant.
The table is the basis for the research management. In consultation with specialists it is determined which type of research is executed to which result. Integration in the total planning of the project makes the proceedings and responsibilities comprehensible. This forms the basis for a successful collaboration.
In short
Through the use of an integral and assessed approach right from the early start and the making of smart choices projects are prepared as much as possible and in this way taken from initiative to realization as quickly as possible, with a positive result for both the users as well as the environment.
This article appeared in the IGG Manual of the built environment 2012 and is placed here with the permission of IGG Bointon de Groot. This article is also available as PDF.
About the authors
The RBOI Group advises using an integral approach and vision on spacial developments and management. With approximately 150 employees involved advise can be completely customized. We supply advise of high quality and always maintain attention to practicability as well. Our motto: There are always solutions!
Leo Snel is project leader at RBOI Rotterdam and member of the BMT. He is specialized in advising on urban redevelopment and expansion. His motto is: Let us make the Netherlands more beautiful together. leo.snel[a]boi.nl
Wouter Verweij is advisor environment and spacial planning at RBOI Rotterdam and works on development-oriented zoning where (environmental) studies play a major role. w.verweij[a]boi.nl