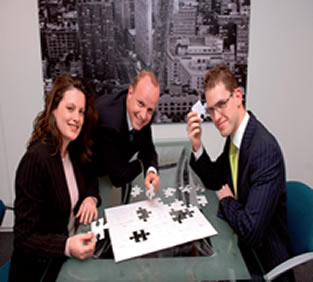 Guido Leenders is the director of Invantive in Harderwijk and knows how important IT is to successful business operations. Since 2000 Invantive is helping large and small companies to use smart IT applications to optimize company processes and make it transparent. Companies achieve a victory with it by an increase in power and efficiency. Not an unnecessary luxury in most branches.
Invantive mostly aims for financial service providers, manufacturing and real estate companies. 'It is especially important in these sectors that complex business processes and financial flows are made transparent, are tuned to each other and that there the situation is continuously monitored. IT is indispensable here. Companies grow and accumulate more and more systems through the years. An ERP-system (Enterprise Resource Planning) or a combination of several systems, like MIS (Management Information System) and a CRM (Customer Relationship Management) system. But the systems should grow along with the enterprise. They need to be able to keep on communicating with each other. Otherwise everything will run independently of each other after a certain amount of time, which can have a lot of bad consequences. The lead time will become too lengthy, the information will be incomplete or only available to the management after long sessions and complicated reports. These are all problems that can be solved by us.'
Our insight into business processes will result in increased efficiency for you
'We regularly do a performance tuning of the existing systems for our customers. We use a software system that we have developed for ourselves called Invantive Melba. Using that we quickly see what use of those systems can be improved to result in a higher efficiency. We focus ourselves, along with the customer, on the main areas of improvement. For us it is not about 'pimping' the system with all kinds of innovative gadgets or the replacement of the entire system. On the contrary. We only do what is strictly necessary and produces sufficient efficiency.
A properly functioning ERP system can be compared to the central nerve system of a company. All business processes are controlled and linked together by it. In addition the system provides trustworthy data, which allows the progress, efficiency and effectivity to be continually checked. Management will therefore be well-informed of the results and can easily locate any bottlenecks. Invantive works like a surgeon. We will do a complete 'body scan'. We will make a plan of treatment and operate on the vital parts that need to be improved. The final result will be that the 'patient' will function better.
Patrick Hofman, consultant at Invantive, advises companies when it comes to controlling their processes: 'Companies are often losing control on their processes. We help to gain insight into that and to tackle the areas of improvement. Thanks to our smart IT solutions these companies can focus on their core business again.
Introducing a new product will not only take just one minute
'Hyplast (part of the Rijnlandse Plastic Groep) improved the performances of its ERP system on key points thanks to such an operation of Invantive. Setting up a new product in the system costed twenty minutes and retrieving a statistic from the system would cost half a day. Thanks to a few smart adaptations of the system important changes could be realized immediately. Setting up a new product now costs only one minute and reports are available immediately. Management no long has to wait for the end of the month to make decisions. In addition, it required two employees less than before to handle all the order input.
'For the real estate sector we developed a complete financial reporting system, Invantive Estate", says Karen Bijlsma, responsible for marketing and sales for Invantive. "This new system is unique in the branch. It allows all parties that are involved in a real estate project to get a crystal clear image of the status of the various processes On any desired (historical) moment. The most important new laws and legislations have been processed in the system. So the user no longer has to be wary of that.' Invantive does not just help to locate and adjust areas of improvement, it can also manage complex systems 'remotely'. Outsourcing of the system management means that people no longer lose valuable time on small problems to the systems. In addition, there is no need to employ expensive professionals, while the continuity of the critical businesses processes is still protected.
Small, specialized and caring 'Invantive is a small specialized company with great achievements. For example, the external reporting of one of the major Dutch banks runs through an Invantive system. Especially quickly growing companies need a balanced growth process. Not just of employees and resources, but also of processes. All three demand management and control. We help entrepreneurs with this by optimizing their existing systems to grow along with the developments of the company.
This article is also available as a PDF
Do you want to know what improvements Invantive can realize in your company? Call Guido Leenders for an obligation-free appointment.