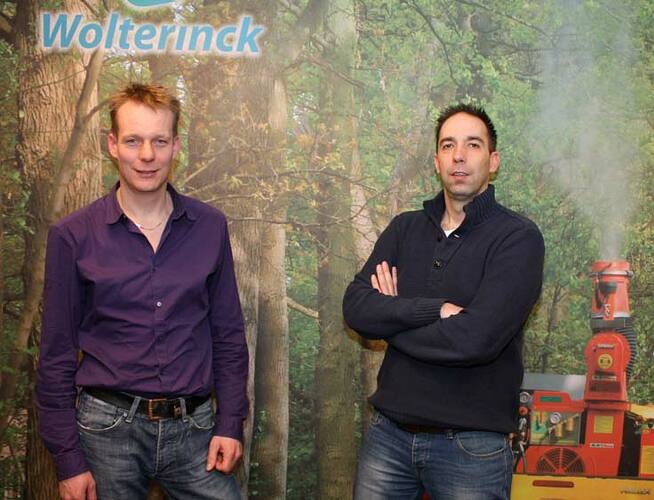 Landscaping company Wolterinck B.V.
Our company has developed since the 90s to what we are today: a versatile, innovative and sustainable green area management company. In the past many activities were processed on an hourly rate. Now the jobs are accepted on the basis of offers and estimates. Wolterinck takes care of the complete project. In addition, we are active in corporate social responsibility (CSR). Wolterinck will be accepting more and more large projects in the future and wants to continue its innovation with sustainable resources and methods.
Controllability is the key to success
Our ambitions resulted in a more complex organization, more risks and projects with a longer running time. Controllability was the key to success. In order to keep processes and projects manageable and transparant it was required to redesign the administrative and financial organization, and, if possible, increase the internal efficiency.
We started looking for one system that could combine financial administration, purchasing, staff, materials, project calculations and planning. One single recording of the data in one basis file out of which payments, salaries and monthly statistics will come pouring out. Yet at the same time it would allow employees direct access to their relevant information. That is how the project leader can see and adapt information on the spot. An executor can see that the scheduling is adapted due to the late delivery of material. The weekly status can be entered by mobile phone and directly processed for every employee and project. And the director himself can analyze how successful projects, service types, employees and machines are. After a false start with a different IT system, we discovered Invantive. Invantive Vision and Exact Online combined have all the functionality included that is necessary, without the need to keep purchasing additional modules.
Always able to monitor
The main advantage of Invantive Vision is that we can continually keep an eye open for you. If business scheduling goes away we will immediately see the consequences. We can adjust immediately and that prevents a lot of costs, agitation and unsatisfied customers. In the calculation and planning of new projects we take these experiences with us. This is how we develop a great learning capability.
Many customers (especially governmental and semi-governmental) demand sharp calculations, realistic scheduling and trustworthy project budgets. Especially when it comes to larger long-lasting contracts, like green area maintenance. Thanks to our improved system we can procure quickly and accurately. During the project we can monitor, report and adjust the progress with relative ease.
Collaboration with Invantive works great
The cooperation with Invantive is going great. Of course you need to learn to speak each other's language, but that is true for every new relationship. The lines are short. The contact is personal and direct. The time between the first contact and daily use was only three months. So far we have not needed any functionalities, that were not available within Invantive Vision. Even making the system accessible to PDAs was not a problem. This is quite useful for a company that has activities outside and on multiple locations. The implementation of our combination rates was a little tricky (a sum of loose partial rates for staff, machine and material per unit). But that was neatly solved too. Just like the transfer pricing through a G account and the processing with different VAT rates. It is surprising how smart, flexible and extensive the system is and yet still runs within Microsoft Outlook. As an investment the system is comparable to a standard base system like Microsoft Dynamics without extra functionalities, but with a base functionality that is many times larger. That is a huge advantage of the combination Invantive Vision and Exact Online. If we had used other systems we would have had to purchase additional modules a long time ago.
Space for green innovation
Now that the basis of the new administrative organization is solid, Wolterinck can again focus itself on further innovation of their services. That is how Wolterinck developed a method to clear hardened and half hardened substrate of weed, without using chemical pesticides. A special machine (the Wave) quickly and efficiently kills all the weed on hardened and half hardened substrate using infrared sensors and boiling water. When it comes to controlling the ever so common oak processionary caterpillar Wolterinck is also a front runner. They use several types of machines and methods to pre-emptively control the caterpillars (EPRS Prevent 460 or EPRS PREVENT TR 600) or to suck them up (EPRS WIPE OUT 7500). Even at great height. Finally the company is active in the development and the application of CO2 binding substrate for roof and wall greenery together with the TU Twente. Such greenery improves the living environment and enlivens walls and roofs of for example car parks. It is even possible to grow a logo of sedum on a facade (CSR design).
In short: Wolterinck is in motion and thanks to Invantive Vision it has the space to grow further in a healthy way.
Advantages Invantive Vision for Wolterinck B.V. in a nutshell:
100% adaptation to organization and working method.
Continuous monitoring.
Expertly, personally and proactively help your clients.
Quick and accurate procurement.
Always a clear overview of costs and income per (partial) project, customer, machine and employee.
Prevents double work and decreases chance of errors in entering administrative and financial data.
Lower accounting costs.
Everything you need for an effective business operation.
A supplier that thinks along with you.
More information about Invantive Vision? Please contact us.