The last release of the app has been extended by two functions: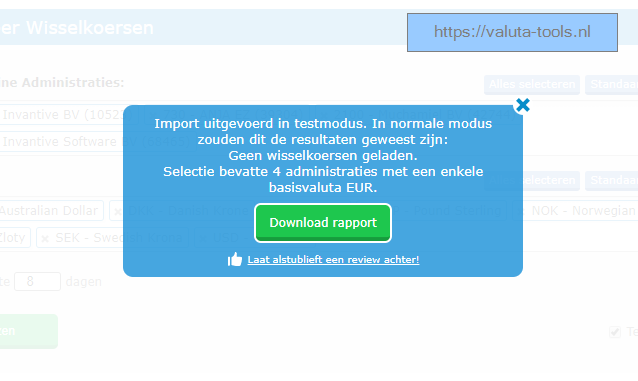 Exchange Rates Import Report
The new import report can be downloaded once the import of exchange rates into Exact Online has been completed. It includes:
parameters used, including user information,
statistics of the import,
detailed list of the exchange rates loaded into the companies,
detailed list of the exchange rates already present before the import.
The report improves the accountability of the financial processes.
Test Run
In combination with the new test run mode users are enabled to receive an overview of expected changes by the exchange rate import process. The test run mode further improves integrity and controllability of the financial processes.
About Exchange Rates App
Invantive offers a free app to complete exchange rates of one or many Exchange Online companies in all Exact Online countries. It is used by hundreds of entrepreneurs and large accounting firms across Europe. Exchange rates are used as provided by ECB where available and in all other scenarios from Open Exchange Rates such as for Thai Baht or companies using a different base currency than the Euro. Solely currencies available within Exact Online are supported; for instance popular bitcoin exchange rates can no be imported.
The exchange rates app is available as a browser app and support also includes phones, tablets and Mac.