For years now, Microsoft Excel has been the most widely used calculation and reporting system in the world. It is used daily by companies and organizations of all sizes. Both to produce incidental summaries, calculations and reports, as well as for structural applications. Excel is user friendly and flexible. But when it comes to the handling of critical risk models and data exchange, I do not think Excel is optimal.
For applications such as this the Excel format is a ticking time bomb.
That is why we have developed a new software application, based on Excel. In this application the good of Excel is successfully combined with extra control and maintenance modules: Invantive Control.
Excel user friendly and visually
Excel is a wonderful program. It is easy to use and accessible to a wide audience. It is easy to enter data as well as cut and paste and it is easily exchangeable. Overall, Excel is very intuitive to use. In addition, Excel is visually appealing and calculations can easily and reliably be developed and applied. Incorrect results are immediately visible. Green is correct, red is wrong. Saving data is easily done on your own PC or on the server.
In short: Excel contributes to efficient data entry and use. It is also a relatively inexpensive system. No wonder that Excel serves as a basis for business critical applications (such as risk and pricing models) of many companies and institutions. Yet this is not always without risks.
Excel less suitable for critical business applications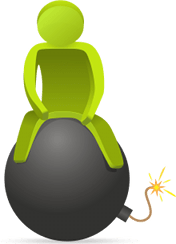 Business critical applications are essential to the business operations. On the one hand they need to adapt to the dynamics of projects and organizations, on other hand they need to be solid, valid and reliable and meet ISO standards. Like ISO 27002 for information security and the applied laws and legislation. It is in these areas that people meet the boundaries of Excel.
Closed systems are not the solution
To increase control on processes and projects, rigid ERP systems are often used. Such systems lack user friendliness, are rigid and too inflexible for the dynamics of a modern organization.
The market was crying out for a solution. A solution that retains the efficiency and user comfortability of Excel, and yet ensures that the organization works in agreement with laws and legislation.
Our mission to give project driven companies all over the world more efficiency on their projects was the basis to get started from.
Invantive Control gives control and flexibility with Excel.
We did not want to develop a new software system, but rather expand Excel with extra possibilities under the name Invantive Control. The extra possibilities arrive in the package of a plug-in. By both limiting the possibilities of Excel when necessary and allowing its flexibility, Invantive Control presents 'the best of both worlds': control and flexibility with Excel.
An organization no longer works with loose data files, forms and Excel workbooks with recopied mistakes. Only one central Excel model is developed and only one central database is used for every application. Both are used by the whole company and comply with the ISO standards (ISO 27002) and laws and legislation. With this you can satisfy the compliance demands.
To work with the model locally you retrieve the data from the central database. You add your own information within the model, make analyses, calculations and/or reports. Models and templates are available for this purpose. After use you check for any done changes and you decide whether the new data is shared with others.
For data storage and 'communication' between local workstations and central databases several technical solutions are available. For example real time data warehousing with Invantive Producer and 'seamless roaming'. More on this some other time.

Tested in reality
Invantive Control was lucky to have been developed in close collaboration with Ballast Nedam Ontwikkelingsmaatschappij. The system meets the demands of companies with high risk and complex projects, like major development projects. The use of Excel and the applicable compliance rules was what we used as a starting point. The Ministry of Economic Affairs has also helped us through an innovation arrangement.
For banks and insurance companies
Using our history in DNB reporting and Basel II, Invantive Control is not just suitable for companies with large, risky and complex projects, but also for companies with complex financial risk models, like banks and insurance companies.