Bij het koppelen van Google Sheets via AppSheet zoals beschreven op Use data from an OData feed - AppSheet Help krijg ik een foutmelding op appsheet.com:
Error
Failed to obtain the OData feed's metadata.
Please make sure that the root URL is correct, and that the data feed has a valid metadata endpoint.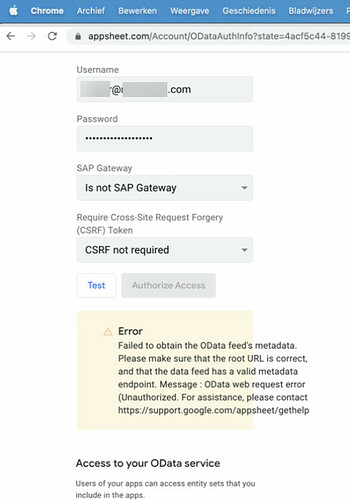 Deze foutmelding is zichtbaar op Invantive Bridge Online als:
itgenbar010
De webclient moet zich identificeren.
Identificeer de webclient met de HTTP-header 'User-Agent'.
Dit probleem ontstaat doordat AppSheet momenteel GEEN User-Agent header meestuurt en ook geen voorzieningen biedt om headers toe te voegen. Hierdoor is het ook niet mogelijk om andere OData-opties te specificeren zoals het weglaten van null-values.
Een verzoek is ingediend om Appsheet een User-Agent header te laten meesturen:
https://www.googlecloudcommunity.com/gc/Community-Feedback/Provide-value-for-User-Agent-header-on-OData-BETA-sources-for/td-p/549178