It seems that ABN and Exact are now rolling out on a PSD2 banklink type (2.0) (JSON format) instead of the old one 1.0 (RABOBANK format).
We are parsing the bank files with Invantive with such statement:
use  xxx@eol 

Create or replace table temp@inmemorystorage 
as
select *
from   exactonlinerest..documentsBulk@eol dct 
join   exactonlinerest..documentattachmentfilesBulk@eol dae
on     dct.id = dae.document
where  dct.type = 40 
AND    dct.Created > dateadd('day','-5',sysdateutc) 
AND    dct.subject like '%11111111%' -- account number in the subject
		
select * 
from   temp@InMemoryStorage 
ORDER 
by     Created DESC

local export documents in AttachmentFromUrl to "c:\temp" filename automatic

Then using the @Bankfile RABO driver we parse the content and process the data.
We do this rather querying the Bankentries@eol to get the real source file from the bank. Inside Exact Online Bankentries could be amended by human action (add, modify, suppress lines).
But since we have a PSD2 2.0 bank link with ABN with one of our banks, we now get a JSON file from ABN that is stored in Exact Online, thus downloaded by the statement above. We try to parse with jsontable like this:
select *
from   jsontable
       ( '[*]' 
         passing file 'c:\temp\1.bin'
         columns c varchar2 path 'BankAccountId'
       )

but we get an itgensql144 error:
The JSON has an invalid format.
Bad JSON escape sequence: . Path 'Transactions[0].RawData', line 1, position 536.
Indeed the json contains escape sequences in the Rawdata node: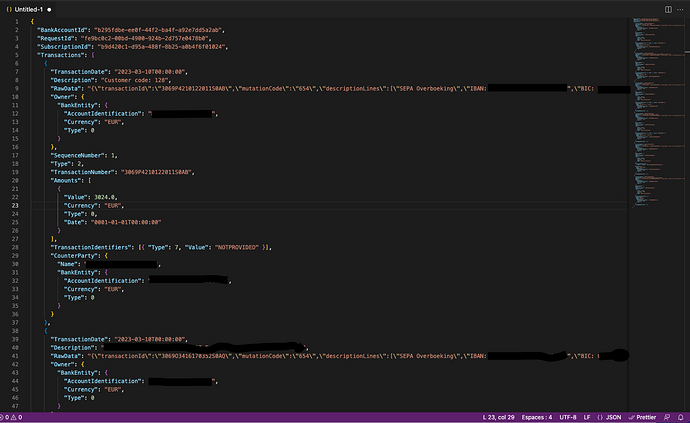 Testing the json file on other json validator seems fine.