I am currently messing around with setting up a balance sheet per period without having to import all historic journal transaction lines. For this, I need a balance per account per end of period.
However, I do not see the view JournalTransactionsByPeriodOrDateV2(which was previously available I believe). Also the default one requires a periodId which I cannot seem to incorporate when linking to Power BI. When testing in the Visma.net swagger, I do get the data I need when providing the period.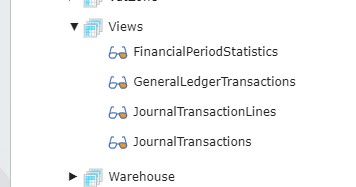 Error on VismaNet.GeneralLedgerBalanceV2.GeneralLedgerBalancesV2@vnt:
itgenoda061
At least one of the parameters should be provided: PeriodId, LastModifiedDateTime
Could you instruct me, if possible, how to retrieve journal balances per period to Power BI? It also does not seem to work in the SQL editor, but even if I were to find out how in SQL, I could not replicate it via Power BI.
SQL
Query used:
select *
from   Vismanet.GeneralLedgerBalanceV2.GeneralLedgerBalancesV2
where  periodId = 202101
limit  1000

Message:
itgensql001
Onbekende ID 'periodId'.
Consider one of the following: …