This article explains how to disable the creation, use and maintenance of backups of Excel worksheets in Invantive Control.
Instructions
Some users have access to a version controlled or otherwise recoverable Excel workbook with an Invantive Control model. In those cases, you can improve synchronization performance by disabling the backup and recovery mechanism of Invantive Control for Excel of worksheets.
Execute the following steps to disable the backups:
Start Excel.
Wait for the Invantive Control ribbon to appear.
Click on the down arrow below the Connect split button.
Choose "Configuration":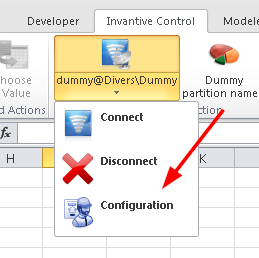 Uncheck "Create Backup on Synchronization".
Backup and recovery mechanism will no longer be active.
Existing backup worksheets will remain as is. These can be made visible by selecting the "Repository Worksheets" in the Modeler ribbon.