When changing an Invantive Control Excel workbook you may receive a message:
This cell you are trying to change is in a protected sheet.
Or in Dutch as shown below:

This message is by intent; by default Invantive Control workbooks are protected against changes to improve compliance with ISO-27001/27002 standards.
This article explains how to disable the workbook protection completely.
Instructions
By default, all worksheets of an Excel workbook with an Invantive Control are protected against when not in Design Mode.
Design mode is displayed in the Modeler ribbon and is active when the icon has a different background than the rest of the buttons: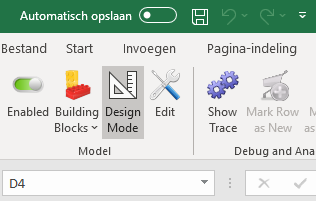 When not in design mode, all cells with their property "Blocked" checked become inaccessible when there is neither an editable block value in it. Editable block values are typically used when changing database contents by editing the contents in Excel and are only applicable within data retrieved from a database.
By default all cells are blocked.
Perform the following steps per Excel workbook to disable protection permanently for that workbook:
Enter design mode by clicking on the "Design Mode" button in the Modeler ribbon as shown above.
Open the Model Editor by clicking on the "Edit" button to the right of the "Design Mode" button.
Press the "Save" button.
Close the Model Editor.
Save the spreadsheet.
Worksheets will no longer be protected when not in design mode.