When connecting to Freshdesk using Invantive Query Tool, I get the following error using 20.1.532 on Invantive Query Tool and Invantive Control for Excel:
itgenoda220:
A connection to the database 'Business Apps\Freshdesk' could not be established as user '…'.
The database 'Business Apps - Freshdesk' could not be opened.
The authentication credentials for Freshdesk are incorrect.
The remote server returned an error: (401) Unauthorized.
The call stack is:
System.Net.WebException
ValidationException
   at System.Net.HttpWebRequest.GetResponse()
   at Invantive.Data.Providers.Http.HttpBasedProvider.DoRequest(GlobalState owner, ExecutionOptions executionOptions, HttpWebRequest request, String url, ObjectDefinition objectDefinition, QueryObject queryObject, String partitionCode, String callSafeNameOverrule, String anonymizedPostText, Boolean allowRetryOnConnectionLoss, ParameterList parameters, Guid nativeCallUid, Boolean throwExceptionOnNonSuccessfulStatusCode, ExecutionStatistics& statistics, ODataErrorProcessingInstructions& oDataErrorProcessingInstructions)

The connection is made using user name and password. The user is agent and account administrator in Freshdesk.
A similar error occurs on Invantive Cloud: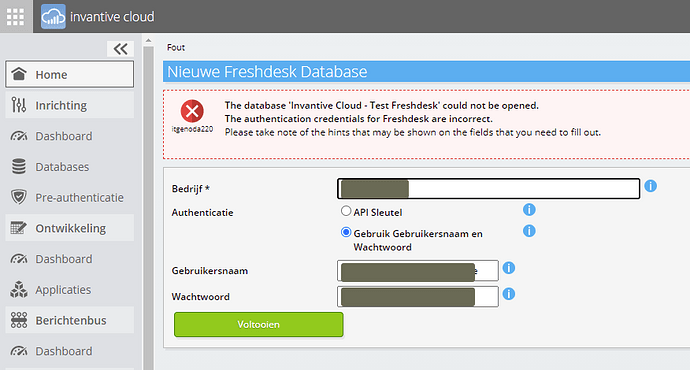 How can I log on?