Note
This topic refers to the 2016 driver version for Power BI. Invantive Cloud is the current replacement, which simplifies onboarding. Please follow setup steps as described.
Historical
The beta program of the Microsoft Power BI connection for Exact Online is being launched today.
Bundled with Invantive Control for Excel and Invantive Composition for Word, it allows end users of Exact Online to access the wealth of data contained in their Exact Online administrations across the globe from within Microsoft Power BI.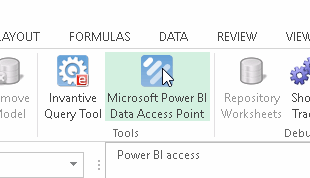 You can access the data delivered by hundreds of REST and XML-based APIs with just a few clicks, plus you can create Invantive SQL queries on these data to pre-process them before they are loaded by Microsoft Power BI.
The beta version is available as of April 12, 2016 on the Stable channel of all mentioned Invantive products.
When you like to participate in the beta program, please send an email to support@invantive.com.