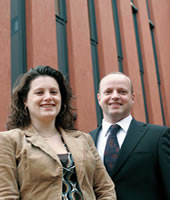 A real estate project is more than a sophisticated urban development plan, a beautiful architectural design and the right supply/demand ratio. It is also about (financial) information flows. By combining and optimizing those flows, both developer and project gain power and efficiency. Managing Consultant Guido Leenders and Account Manager Karen Bijlsma-Houtveen of Invantive (founded in 2000) explain what positive consequences the software package Invantive Estate has on business operations.
'Invantive supplies smart IT solutions in the area of financial reporting, analyses and expertise to financial institutions and to the real estate branch.' In 2004 the company from Harderwijk was approached by the real estate developer 3W from Maastricht. Bijlsma: 'Every real estate developer is familiar with different kinds of information flows. The administration feeds the financial flows, the project developers write up their latest estimates and requirements and in the same way there are many other flows to think of. For real estate developers there is a need for a software package that automatically as well as manually bundles all those information flows and shows it into clear reports and cash flows. Invantive developed such a product and called it Invantive Estate. Invantive Estate does not just manage information flows, but it also offers an actual financial insight into real estate development projects which allows for a more efficient control on budgets. 3W proved not to be the only real estate company with a need for such a software solution. And that is how the product Invantive Estate became a success for different developers in the Netherlands.'
Transparent and transferable
'Invantive Estate is linked to the financial system, but it also provides insight into the document management. All (financial) information flows become transparent and easily transferable. That saves a huge amount of time and annoyance. The controller is no longer working weeks to figure everything out, but in addition the:
Management control is increased
IT costs are greatly decreased
Insight into business processes are gained and image damage is prevented
Real estate projects have a major impact. There are major investments needed for longer periods of time before they become profitable. Seemingly small differences can have large consequences to the gross margin and the final outcome. By equating the cost and demand to each other prior to the process, the profit will show a heavy increase. Next to that the developer will negotiate with countless suppliers during a project, with a lot of temporary contracts and agreements for the rentals, sales and financing. 'Invantive Estate is a very effective product in which all this data and information can be saved. It can read data out of nearly every other program with ease. This makes it easy to monitor all projects continuously and immediately seizing control where necessary!'
'In short: Invantive Estate is a valuable tool for both project developers as well as financial administration and controllers to gain insight into the financial results of a real estate project both in the short and long term. And in addition, the situation can be reproduced to every (historical) moment.'
Characteristics Invantive Estate
Invantive Estate offers real estate developers the following advantages for their real estate projects.
Budget control, registration of realization and margin on the basis of a proven expert model
Most recent insights of the project developer combined with realization numbers from the financial systems
Registration of commitments, expected and accomplished sales of units and surface area
Registration of hours and tasks
Extensive reports on five levels of detail
Splicing of numbers per cost type
Simplification of the report in accordance with IFRS
Integrated application controls
Extensive access and information security
Report in PDF, Microsoft Excel and Google Earth
Integrated document management system
Modular construction
Complete project file
CRM functionality
Freely arrangeable workflow for security of the process
This Article is also available as PDF
More information on real estate projects? Please contact us.