Bij het uitvoeren van een sql request op een Autotask database (tabel Companies maar ook andere geven dezelfde foutmelding) krijg ik de volgende foutmelding: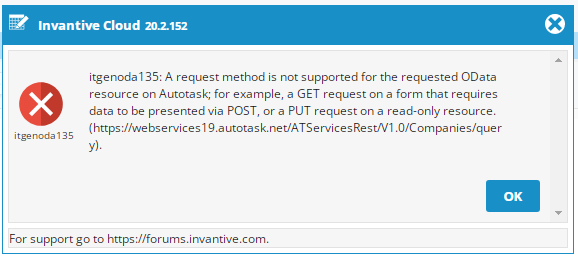 itgenoda135
A request method is not supported for the requested OData resource on Autotask; for example, a GET request on a form that requires data to be presented via POST, or a PUT request on a read-only resource.
https://webservices19.autotask.net/ATServicesRest/V1.0/Companies/query
In Power BI krijg ik de volgende melding bij het vernieuwen van de data:

Expression.Error:
De kolom id van de tabel is niet gevonden.
Wat kan hier de veroorzaker van zijn en hoe is dit op te lossen?