Invantive Composition - open documents and completed templates in Word
The Invantive company has developed a new module: Invantive Composition. This makes it possible to open templates in Microsoft Word, filled in with the data from the database of an administrative system. Documents from the DMS can also be retrieved. The module Invantive Composition is an add-in to Microsoft Office.
This module enables the possibility to make documents that combine structured data from a database, like name and address data, budget consumption or mortgage quote and unstructured text in one document. This makes the communication process time-saving and structured; because 95 percent of the letter is already finished. After that the document is easily finished thank to the familiar tools Microsoft Word and PowerPoint.
It is ideal for companies that want to set up a structured correspondence, but at the same time wish to complete a letter personally on the basis of a last update or last conversation with a customer.
Searching for documents quickly on the basis of your rights
Thanks to Composition all documents are neatly managed from one place. Thanks to this module you can fill your templates dynamically out of the Oracle database with for example persons or budgets. Documents that have been saved as BLOB or BFILE can be opened directly in Microsoft Word. In addition it is possible to search for entered classifications and to search with Google within the documents and templates using your rights. In this way the template for a letter or PowerPoint presentation can be retrieved quickly. The search result can be grouped.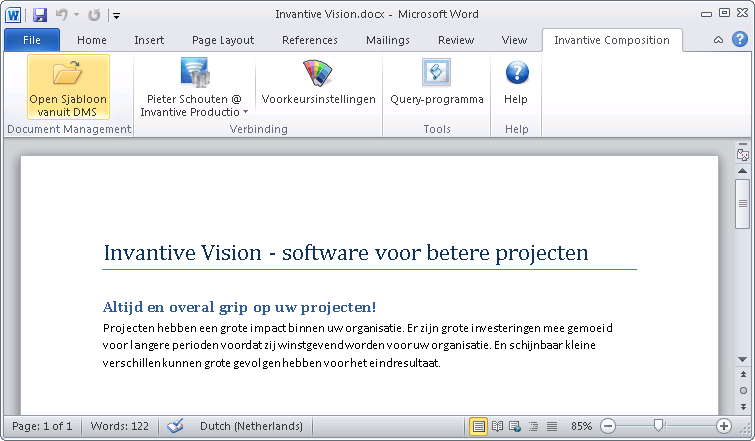 Affordable and availability
Invantive responds with this module to the fact that there is no standard and affordable software that allows Office users in large organizations to fill templates from a database. Invantive Composition is available separately and suitable for opening documents and templates in BLOB-s and BFILE-s format in an Oracle database. Invantive Vision and Invantive Estate contain a user license to Invantive Composition.