Bij het publiceren van een Excel jaarrekening naar het formaat zonder formules (standaardinstellingen zoals beschreven op Bescherm uw formules en andere vertrouwelijke informatie in Microsoft Excel) treedt de foutmelding onderaan op.
Het gaat om een jaarrekening met maar één administratie en een stuk of 15 werkbladen.
Het Excel werkboek met de Exact Online-formules bevat geen plaatjes of zo. Het werkboek is opgeslagen als Excel werkboek met macro's.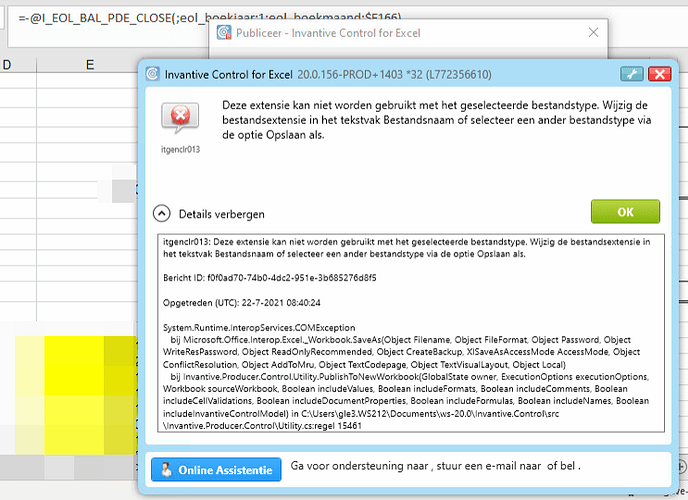 itgenclr013
Deze extensie kan niet worden gebruikt met het geselecteerde bestandstype. Wijzig de bestandsextensie in het tekstvak Bestandsnaam of selecteer een ander bestandstype via de optie Opslaan als.
System.Runtime.InteropServices.COMException
bij System.Environment.GetStackTrace(Exception e, Boolean needFileInfo)
bij System.Environment.get_StackTrace()
bij IBC.BPH.K()
bij Invantive.Basics.ErrorConstants.GetEnvironmentStackTrace(Boolean ignoreErrors, String valueOnError)
bij Invantive.Data.ErrorToTrace.CurrentDomain_FirstChanceException(Object sender, FirstChanceExceptionEventArgs e)
bij Microsoft.Office.Interop.Excel._Workbook.SaveAs(Object Filename, Object FileFormat, Object Password, Object WriteResPassword, Object ReadOnlyRecommended, Object CreateBackup, XlSaveAsAccessMode AccessMode, Object ConflictResolution, Object AddToMru, Object TextCodepage, Object TextVisualLayout, Object Local)
bij Invantive.Producer.Control.Utility.PublishToNewWorkbook(GlobalState owner, ExecutionOptions executionOptions, Workbook sourceWorkbook, Boolean includeValues, Boolean includeFormats, Boolean includeComments, Boolean includeCellValidations, Boolean includeDocumentProperties, Boolean includeFormulas, Boolean includeNames, Boolean includeInvantiveControlModel) in C:\Users\gle3.WS212\Documents\ws-20.0\Invantive.Control\src\Invantive.Producer.Control\Utility.cs:regel 15461
bij Invantive.Producer.Control.PublishWorkbookForm.R(Object , EventArgs ) in C:\Users\gle3.WS212\Documents\ws-20.0\Invantive.Control\src\Invantive.Producer.Control\RangeSelectionForm.cs:regel 334
bij System.Windows.Forms.Control.OnClick(EventArgs e)
bij System.Windows.Forms.Button.OnClick(EventArgs e)
bij System.Windows.Forms.Button.OnMouseUp(MouseEventArgs mevent)
bij System.Windows.Forms.Control.WmMouseUp(Message& m, MouseButtons button, Int32 clicks)
bij System.Windows.Forms.Control.WndProc(Message& m)
bij System.Windows.Forms.ButtonBase.WndProc(Message& m)
bij System.Windows.Forms.Button.WndProc(Message& m)
bij System.Windows.Forms.Control.ControlNativeWindow.OnMessage(Message& m)
bij System.Windows.Forms.Control.ControlNativeWindow.WndProc(Message& m)
bij System.Windows.Forms.NativeWindow.Callback(IntPtr hWnd, Int32 msg, IntPtr wparam, IntPtr lparam)
bij System.Windows.Forms.UnsafeNativeMethods.DispatchMessageW(MSG& msg)
bij System.Windows.Forms.Application.ThreadContext.LocalModalMessageLoop(Form form)
bij System.Windows.Forms.Application.ThreadContext.RunMessageLoopInner(Int32 reason, ApplicationContext context)
bij System.Windows.Forms.Application.ThreadContext.RunMessageLoop(Int32 reason, ApplicationContext context)
bij System.Windows.Forms.Application.RunDialog(Form form)
bij System.Windows.Forms.Form.ShowDialog(IWin32Window owner)
bij System.Windows.Forms.Form.ShowDialog()
bij Invantive.Producer.Windows.Forms.AdvancedForm.ShowDialog() in C:\Users\gle3.WS212\Documents\ws-20.0\Invantive.Producer\src\Invantive.Producer.Windows.Forms\Controls\AdvancedRichTextBox.cs:regel 46
bij Invantive.Producer.Control.ActionsRibbon.publishButton_Click(Object sender, RibbonControlEventArgs e) in C:\Users\gle3.WS212\Documents\ws-20.0\Invantive.Control\src\Invantive.Producer.Control\ActionsRibbon.cs:regel 3476
bij Microsoft.Office.Tools.Ribbon.RibbonPropertyStorage.ControlActionRaise(IRibbonControl control)
bij Microsoft.Office.Tools.Ribbon.RibbonPropertyStorage.ButtonClickCallback(RibbonComponentImpl component, Object[] args)
bij Microsoft.Office.Tools.Ribbon.RibbonManagerImpl.Invoke(RibbonComponentCallback callback, Object[] args)
bij Microsoft.Office.Tools.Ribbon.RibbonMethodInfo.Invoke(Object obj, BindingFlags invokeAttr, Binder binder, Object[] parameters, CultureInfo culture)
bij Microsoft.Office.Tools.Ribbon.RibbonManagerImpl.System.Reflection.IReflect.InvokeMember(String name, BindingFlags invokeAttr, Binder binder, Object target, Object[] args, ParameterModifier[] modifiers, CultureInfo culture, String[] namedParameters)