As can be read in our press release the UAV 2012 is not accepted by all involved parties in its current form. Ministers Melanie Schultz (Infrastructure and Environment, VVD) and Hans Hillen (Defence, CDA) claim that they can not sign the UAV 2012. The argument being that paragraph 12 section 2 is pressurizing the position of the client. After all, he would need to inspect more closely. Industry peers also share this opinion. They claim they can not reach an agreement under this new condition. Reason to file a request for revision at the Institute for Construction Law (IBR in Dutch).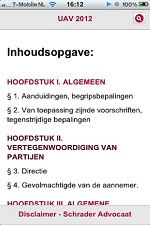 Imagine that after all these arguments you do not know what you are up against either. Imagine that you would want to see paragraph 12 section 5 again during a meeting and there is no printed copy available. What do you do? Exactly, you grab your iPad, iPhone or Android machine and "Google UAV 2012 paragraph 12 section 5". The result will be a jumble of result that you will need to sift through before you can find the answer. Time-consuming and clumsy, especially if you are in a meeting or you wish to write an article like I do and quickly want your information to be available. This is no longer necessary, because thanks to the useful UAV 2012 App of Schrader Construction Law Attorneys you will always have the complete UAV 2012 near you.
With the UAV 2012 App you can quickly find information and easily navigate through the different chapters. In fact, the table of contents of the UAV 2012 constitutes the basis of the App. Because the table of contents is clickable, it is also a menu. This allows you to use the App to quickly navigate to a certain chapter of the UAV 2012. Once you are in the right chapter the table of contents - just like the previous and next chapter - are accessible through the menu Simple, right?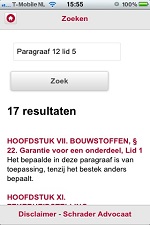 But there is more. In addition to navigating, you can also use a focused search. By clicking on the search icon you open a search field, or "the internal Google" as you can call it, but with better results. In the search field you can enter key words after which relevant texts will be shown. After entering "paragraph 12 section 5" I got to see the right paragraph and related results. Useful, right?
As you can read the UAV 2012 App of Schrader Construction Law Attorneys is easy to use. It offers a quick and clear access to important information and is always available. For me this useful UAV 2012 App has arrived too late. It would have certainly saved me a lot of time and effort during my search for information for my article. So let me just say: try it out and use it to your advantage.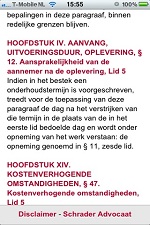 That is why: Need the UAV 2012? There is an App for That.