Hallo ik kreeg vandaag foutmeldingen bij opstarten. Heb de licentiesleutel geplakt die ik 16 december kreeg en daarna Invantive opnieuw geinstalleerd.
Nu krijg ik een foutmelding dat Client ID niet juist is.
Hopelijk kunnen jullie me helpen.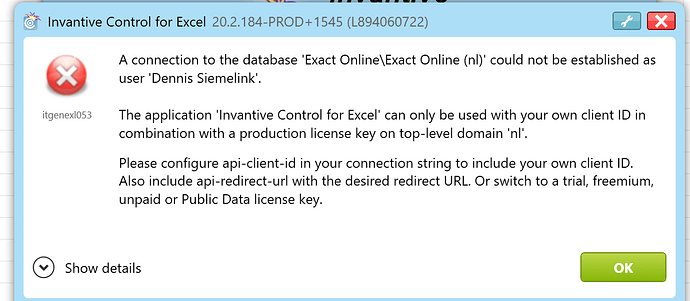 itgenexl053
A connection to the database 'Exact Online\Exact Online (nl)' could not be established as user '…'.
The application 'Invantive Control for Excel' can only be used with your own client ID in combination with a production license key on top-level domain 'nl'.
Please configure api-client-id in your connection string to include your own client ID.
Also include api-redirect-url with the desired redirect URL.
Or switch to a trial, freemium, unpaid or Public Data license key.