Once you grant an app access to your Exact Online companies, the privilege remains until revoked. This article describes how to revoke access to your Exact Online from apps.
Instructions
On first use and on extended data need as specified by scopes, the Exact Online user must approve access for an app. This privilege allows the app to access the data of your Exact Online companies without further permission.
When use of an app is no longer relevant, the privilege can be revoked by executing the following steps:
Log on to Exact Online.
Click on the down arrow on the top right next to your name.
Choose "My Exact Online":

Choose the option "Security centre" from the tabs listed on the left:

Scroll down to "My app's permissions".
Find the app that you want to revoke privileges from.
Click on the text "Revoke" to the right of the app: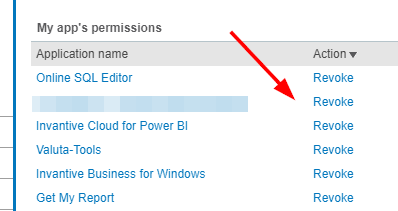 For further details please contact Exact Online support.