Invantive products can exchange data with Exact Online companies through an app registration. This can be a proprietary app registered through the Exact Online App Store or a standard app from Invantive or one of our partners. For standard apps, the partner takes care of the registration in the App Store.
With the first use of an app - after authentication - permission is requested to exchange data using the so-called "Consent Flow". Here, both the companies can be chosen (Dutch) ("division scoping") and the data to which permissions are requested can be checked (the "scopes" or "data scoping (Dutch)").
In this topic, you will learn how to revoke permissions on Exact Online later in time.
Perform the following steps to revoke app permissions:
Go to "My Exact Online by clicking on your name in the upper right corner.
Choose "Security Center" on the left side.
Find the relevant app under "Permissions."
Click on "Revoke."
The steps are visualized again below:
Go to "My Exact Online
In the upper right corner of Exact Online, click on your name (red 1). A menu will appear. In the menu select: "My Exact Online" (red 2):

)
Go to "Security Center"
In "My Exact Online" in the left menu, choose the "Security Center" tab (red 3):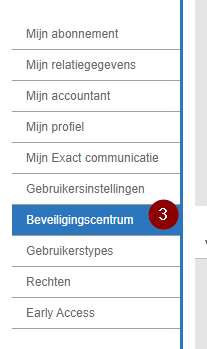 Find app at "Permissions"
Scroll down to "Permissions for my apps" (framed in red) and find the app whose permissions need to be revoked (red 4):

Note that in the Exact Security Center, company permissions are also visible. Changing company permissions is currently only possible via the Import/Export menu in the upper left corner and then "App permissions."
Revoke permissions
On the far right, click on the "Revoke" action to revoke permissions (red 5):

The revocation becomes active immediately. Once the app is used again, the app will have to be re-authorized by logging on using the "Consent Flow". Additional bonus is that then also "All current and future administrations" can be selected as described in Nieuwe Exact Online administratie niet zichtbaar in Invantive Cloud voor Power Query/BI - 2 van forums (Dutch).
Revoke not all permissions
It is also possible to revoke partly permissions; see above: