Traditionally, Invantive GUI products use an Internet Explorer 11 control to log on to platforms such as Exact Online, Teamleader, or Salesforce using the so-called "OAuth2 implicit grant flow". Internet Explorer has been obsoleted, which causes for instance issues with Twinfield OAuth. Therefore the Invantive graphical software products are switching to the use of Microsoft Edge.
Microsoft Edge is solely used with the BETA versions. The Long Term Support 17.32 and Production 20.0 releases will continue to use Internet Explorer. Releases 17.32 and 20.0 will not receive an upgrade to Microsoft Edge. A production release with Microsoft Edge support is available when the current BETA acquires production state somewhere in 2021 Q3.
Microsoft Edge is controlled through Microsoft's WebView2 Runtime. This may not be installed on all platforms. Also, the installation is currently not bundled yet with the Invantive products.
To install the WebView2 Runtime, please visit https://go.invantive.com/webview2 or go to WebView2 - Microsoft Edge Developer and choose your platform in the column "Evergreen Bootstrapper":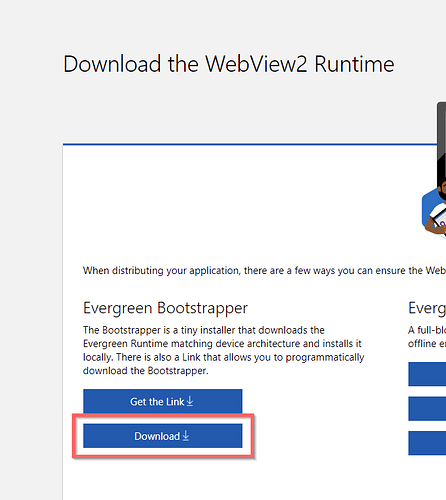 After that, you will be able to log on again using a browser window.